Sometimes, corporate IT departments need technical staffing services to speed up their projects. The firms may opt for outsourcing engagement models. Two such models are staff augmentation and project outsourcing.
This article compares the two techniques and provides more information about using them.
Staff Augmentation
Staff augmentation hires professionals on a short-term basis. The augmented staff may join the project development whenever you need their skills. You may also employ the augmented staff to complement your in-house IT team.
Indicators for Augmenting Your Project
Staff augmentation may be the best option if you need extra expertise. The technique lets you be in charge of the implementation process. In this case, you oversee the hiring and vetting of the augmented staff. You also ensure that the augmented staff aligns with your in-house development team.
Types of Staff Augmentation
1. Commodity augmentation
This type of augmentation does not involve any specific skill set. The technique is common among manual labor and basic factory or warehouse work.
2. Skill-based augmentation
Skill-based augmentation does not consider the skill level of workers. The technique is suitable for clerical, data processing, transcription, and copywriting work.
3. Highly-skilled augmentation
Highly-skilled augmentation selects staff with advanced skills and significant training and experience. The skill level matters and is critical to the selection process. Highly-skilled augmentation is suitable for software engineering, contract law, and brand design tasks.
Augmentation Services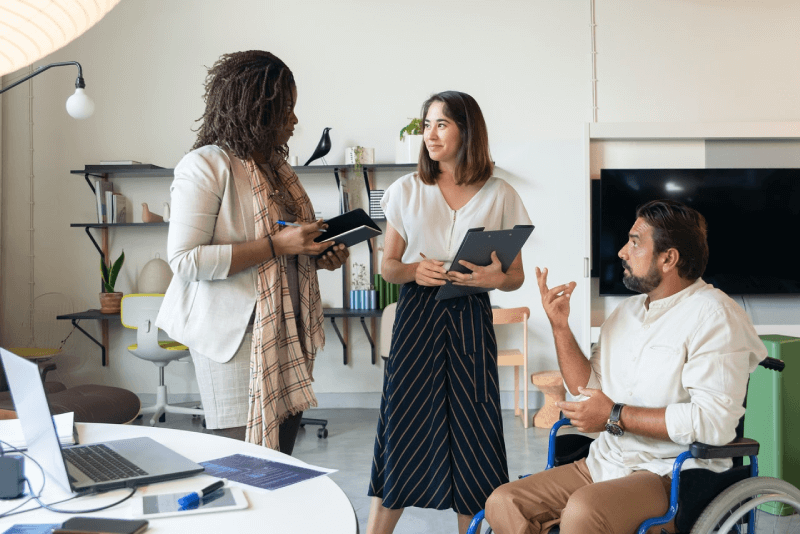 There are many types of augmentation services. But choosing the best service depends on the specific needs of your company.
The following are the different types of augmented staffing providers:
1. Traditional providers
Traditional providers are better suited for non-critical projects. You can find such providers on TEKsystems, Experis, and Adecco sites.
2. Master vendor providers
Master vendors provide significant scale commodity augmented services. The vendors include Manpower, Kelly, Aerotek, and Randstad.
3. Specialized/boutique and consulting firm providers
These vendors provide skilled and skill-based augmented services. Examples include PointB, Patina, and Solutions.
4. Gig platforms
Gig platforms are online platforms that provide instant access to independent workers. The platforms offer fast and flexible commodity skill-based augmentation. An example of a gig platform is Freelancer.com.
5. On-demand talent platforms
On-demand platforms provide the curated and highly-skilled talent. These sites include BTG and Toptal.
6. Direct independent relationships
Direct independent relationships refer to the independent contractors whom a company augments. These workers are better suited for skill-based jobs. Examples of direct independent relationships sites include TalentNet and WorkMarket.
Pros and cons
The benefits of staff augmentation include:
Augmentation reduces the cost of hiring and onboarding new staff. You only pay for the actual hours the augmented team spends on your project.
Augmentation allows you to find the most suitable professionals for your project. The technique offers seasonal and flexible employment schemes for external teams. The augmented staff may be from any geographical location.
The augmented team works with your in-house IT team. Staff augmentation ensures in-house management and eliminates the need for external project managers.
Cons
Staff augmentation presents extra costs as the project expands while retaining internal management.
Interacting and mixing with augmented staff may cause the in-house team to lose focus. In this case, there is no job separation between your team and the augmented team.
Companies may incur training costs for the augmented staff members.
Staff augmentation may be difficult to scale if the project's scope changes.
Outsourcing
Project outsourcing involves paying for specific, prearranged outcomes. You also give up direct control over your project. The outsourced vendor works with an external team to complete the project. Meanwhile, you can focus on in-house development tasks.
Indicators for Outsourcing Your Project
Various factors may prompt you to outsource your IT project. These factors include:
1. Lack of in-house developers and tech expertise
Outsourcing delegates IT tasks to an external team. Your in-house team can focus on other prioritized jobs, speeding up business processes.
2. Carryovers and failed deadlines
Scaling or adding a separate team may enable your project team to meet deadlines.
3. Need to optimize costs
Outsourcing involves finding an experienced external manager w. The outsourcer will help you avoid administration, recruitment, and human resource overhead.
4. Difficulty augmenting the right talent and tackling complex projects
Outsourcing provides a vast talent pool. You can select the outsourcer who will benefit your project more. Outsourced vendors also have access to experienced teams and potential workforce.
Pros and cons of outsourcing an IT project
The benefits of outsourcing an IT project are:
Outsourced project managers handle the whole process.
Outsourcing requires little to no training. But if your company uses legacy or proprietary systems, you may incur training costs.
An outsourced team works with fixed deadlines. Your company will likely deliver its projects on time.
Outsourced projects are more scalable.
Outsourcing reduces management costs since the vendor handles the outsourced workers.
Outsourcing is a cost-efficient way of improving your company's technical skills. Workforce turnover does not also affect the project's progress.
Cons
Outsourcing hands over most of the project's control to the outsourced vendor. This way, you will have less control over the project's execution.
It may also be challenging to integrate the outsourced project with internal systems. In this case, you must ensure that your business aligns with the outsourced team.
Outsourced vendors may also be less inclined to take on smaller projects.
Staff augmentation vs. outsourcing
The comparison of the pros and cons of both staffing techniques include:
1. Responsibilities and costs
The augmented service provider handles the recruitment and employment of workers. The vendor is also responsible for the project's well-being.
Those who outsource their projects benefit more from the technique. The model increases employee commitment and task prioritization.
2. Work and organizational culture
Outsourced projects have a better work atmosphere and organizational culture. Developers can create unique work environments that focus on knowledge exchange and cooperation. Engineers working in an augmented model may not identify with the third parties. They are likely to work for other organizations when the current project is complete.
3. Project management
In the staff augmentation model, the outsourcer handles project management. An experienced in-house software development team also works on the project. This team discovers an efficient way of handling and building a partnership portfolio.
Outsourcing a project means that the company has to hire an external team. The vendor establishes a single point of contact that conveniences the buyer. The vendor also takes over the entire management liability of the project.
4. Vendor relationship
All successful businesses depend on mutual trust and understanding. Outsourcing a project creates a direct and permanent partnership.
Staff augmentation creates a shallower partnership that focuses on providing a skilled workforce. The partnership terminates upon the project's completion.
5. Cooperation kick-off
Staff augmentation requires less kick-off time than outsourcing the entire project. The outsourcer finds the right workforce and technical experience needed for the project. The outsourcer also determines the project's scope and functionalities.
The in-house software team assembles a dedicated team for each project. The team scales the project according to the current user needs.
6. Internal IT policy
Outsourcing projects creates a shortage of in-house developers. You may also end up in a loop where you cannot use past augmented staff. You need to find new developers and introduce them to their knowledge and experience. For this reason, project outsourcing creates an unnecessary, tiresome loop.
7. Insights and knowledge
Augmented developers do not know previous products, business experience, or industry insights. You cannot expect these developers to be as active as your in-house development team.
Each outsourced project should be unique and personalized. The outsourced vendor creates a team that implements your project fast. The team can dig deeper into your organizational knowledge to know your actual needs.
Which one should you select—Augmentation or Outsourcing?
The suitable technology staffing method might not be obvious. You have to consider various factors to come up with the best model.
These factors include:
The anticipated staffing requirements. This factor may stem from projected business growth or contraction.
Your company's technical skills. If your employees do not have the required skill set, you must outsource the project.
The company's IT and personnel budgets. Limited budgets may limit your selection to staff augmentation.
Your competitor's position in the global competition.
The project's deadline and speed are needed to market it.
You may also want to consider the individual staffing models and what they have to offer. Staff augmentation provides a flexible solution that integrates in-house and external technical expertise. The model works best for existing projects and lets you take control of each project step.
IT project outsourcing lets you give up direct control of your project. This technique works best for new projects.
You can also opt for project outsourcing if you lack in-house expertise. Outsourcing will help you cut costs. Your in-house programmers will also have more time to work on essential tasks.
Conclusion
You can integrate augmentation and outsourcing or opt for individual techniques. Either way, select an experienced vendor who can solve your current staffing challenges. After all, the goal is to make your company more competitive and as efficient as possible.
Learn More about Sigma Solve's Staff Augmentation Service.