Did you know that you can gain access to highly specialist hires without the long-term expenditure incurred by onboarding permanent employees? If you need to fill a skill gap for an upcoming project, or over a short-term period then staff augmentation vendors can set you up with top global talent at affordable rates. Today we'll be discussing exactly why and how staff augmentation can save you money and reduce the costs associated with hiring.
We'll be covering…
What is staff augmentation?
Who is staff augmentation for?
Why businesses should be using staff augmentation?
Benefits of the staff augmentation model
How using a staff augmentation model reduces costs?
What is Staff Augmentation?
Staff augmentation is a type of outsourcing model. IT companies looking for specialized onboards to fill short-term skills gaps can hire individuals on a non-contract basis from a staff augmentation vendor. These vendors have a global database of high-quality talent ready to go and will match you with somebody that can meet your specific requirements.
Once an augmented staff member is chosen, they join the team alongside existing permanent hires but remain managed and supported by the staff augmentation company. This hiring strategy allows organizations to scale their workforce up and down with great flexibility based on short-term needs.
Who is staff augmentation for?
There are many reasons why hiring managers turn to staff augmentation vendors to fill positions. Firstly, using the staff augmentation method means that managers can look for individuals with a specific skill set that they need for a particular project, task, or duration. Adding to an existing workforce with augmented staff is a fantastic way to supplement and strengthen teams.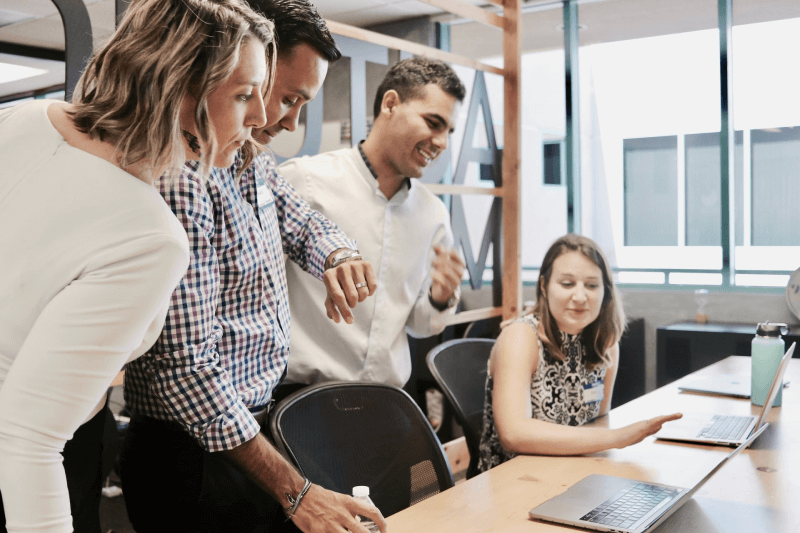 Staff augmentation is ideal when you need to act quickly. Perhaps, for example, you notice a worrying skill gap in your team just before the commencement of an important app development project. At this point, it would take far too long and cost far too much to source, recruit, and onboard another member of full-time staff. Instead, bringing in an augmented employee can be achieved quickly. The individual will fill that skills gap for as long as you need them on the project.
Benefits of the staff augmentation model
In just a moment we'll be discussing exactly how staff augmentation saves hiring managers money. But first, let's take a look at some of the additional benefits associated with this staffing method.
1. Hire the best talent: staff augmentation vendors have accesses to databases of top global talent. That means whatever skills gap you need filling you can be sure to get the best minds on the job. Most augmented workers work remotely, so there's literally no geographical limit as to who (and from where) you can hire.
2. Flexible & scalable: an augmented workforce can be scaled up and down as needed meaning that companies can react quickly to changing events and business needs. By employing a flexible staffing model you'll be able to maintain the quality of your outputs without overspending on resources.
3. Speed up recruitment: introducing augmented staff into your teams means that you can recruit much faster than traditional recruitment processes allow. No lengthy advertising campaigns or interview periods. Plus, no additional training is needed to onboard new hires. Augmented workers are already highly trained in their respective specialisms.
How Using a Staff Augmentation Model Reduces Costs
As well as saving time and resources, hiring managers can save their departments a lot of money by utilizing staff augmentation. It's much more cost-effective to hire this way. The hiring process for permanent employees is resource and cash heavy.
Not only does it cost companies money to advertise for a position, interview, and onboard employees, but permanent employees also require additional financial benefits over time if they are to remain satisfied employees. Plus, if you only ever needed them for one short-term project you may even be forced to lay them off early to save costs (and that's not going to do your company reputation any favors).
But how, exactly, does staff augmentation reduce overall costs?
Let's find out.
1. Staff augmentation expedites the recruitment process
Hiring permanent employees is a costly business. In fact, it can cost thousands of pounds and take months of searching to hire just one software developer. By providing quick access to expert talent, staff augmentation vendors expedite the recruitment process. Teams can recruit and select augmented workers in a matter of days rather than weeks or months, reducing the cost of hiring in the process (e.g., cost of advertising, recruitment software, etc.).
2. Staff augmentation reduced need for additional training
Because your augmented staff will be under the management of a third-party service vendor, you won't have to foot the bill for any skills-based training or onboarding. By using a staff augmentation service, part of the deal is that the staff on offer are already highly skilled in targeted areas. All you have to do is pick the right hire. Onboarding an augmented worker is a relatively inexpensive process, particularly as most of the time the whole process is done virtually.
3. Staff augmentation reduces long-term costs
Staff augmentation also helps teams reduce overall long-term expenditure on a day-to-day basis. This is principally because utilizing augmented staff reduces the need for contingency planning, rent (and other facilities), daily expenses, technology, and employee benefits like healthcare provisions.
Augmented employees don't require the same standard of insurance and, most of the time, will be able to do their jobs remotely. That means fewer utilities bills at the office, reduced daily expenses, and the option of requiring your hires to use their own devices (or BYOD).
Needless to say, all of this adds up to some very significant overall cost savings.
4. You won't have to worry about hiring the wrong person
Hiring any permanent member of staff can be expensive. But when errors of judgment are made the costs can soar out of proportion. Hiring the wrong member of staff can cost departments thousands of dollars, waste time, and impact overall productivity.
Hiring an augmented member of staff is much less risky. You will have access to a highly skilled individual who can be deployed as and when needed. Not the right fit? No problem. Simply get in touch with your vendor who is responsible for managing all of their outsourced employees. No need to incur more time and money expenses.
5. Save on the cost of travel
Employing augmented workers can reduce the cost of travel by almost 100%. Most of the time augmented staff work remotely from home, or away from the company office. This means that companies don't have to provide transport allowances to these employees. All meetings and collaborations can be conducted online via your company communications software.
6. Save time and money with staff augmentation
If you're in need of a new hire for a specific job or project then staff augmentation might be the perfect match for your team. Employing skilled workers through a staff augmentation vendor shaves time off of the traditional hiring and onboarding process, whilst significantly cutting costs in the process. Next time you notice a skills gap before an upcoming project, think about bringing in some fresh augmented talent!